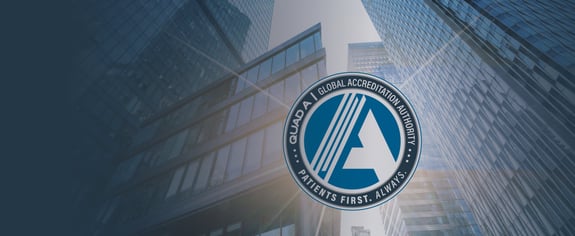 QUAD A accreditation assures patients that their safety is top priority
Looking for more information? Request a free information packet, call us, or complete the 'Contact Us" form below.
QUAD A Office:
600 Central Ave, Ste 265
Highland Park, IL 60035
Phone (Toll-Free): 888-545-5222
Email: info@QUADA.org

Patient Safety Data Reporting Hotline: 224-643-7704
Patient Safety Data Reporting Fax: 847-589-6425
Patient Safety Data Reporting Helpdesk: helpdesk@QUADA.org
Business Hours: 8 am to 4:30 pm CST, Monday through Friday
We welcome the opportunity to speak with you. An accreditation specialist is ready to assist you with any questions you may have.
Subscribe to Our Newsletter
Social Media
Follow us on Facebook, LinkedIn, Instagram, and Twitter
Stay up to Date with QUAD A News
Subscribe here to our free weekly e-newsletter for regular news and information.
For the Media
The QUAD A public relations office is staffed during regular business hours. We appreciate and understand media deadlines and work with our spokespersons to help facilitate interviews and statements in a timely manner.