Interested In Accreditation?
QUAD A is unique among accrediting agencies in the ambulatory setting because everything we do puts the patients first. QUAD A requires:
All staff members must be properly licensed and credentialed. Surgeons must be board certified and practicing within their specialty and have hospital privileges for any procedure that is performed.

The use of anesthesia professionals for deeper levels of anesthesia.

Evidence of a safe surgical environment, equipment, drugs, etc. through the review of specific standards.

Regular patient safety data reporting allows QUAD A to monitor trends (complications, mortalities, etc.) and create scientific, peer-reviewed articles about the safety of ambulatory surgery facilities.
Day Surgical Center Accreditation Application Form (UAE only)

Preparing for a Successful Survey
Preparing for your survey doesn't have to be stressful. QUAD A provides a Standards and Checklist manual, which is used for your initial survey, self-surveys, and resurvey to facilities to ready themselves for their upcoming survey. This ensures that there will be no surprises during the onsite survey.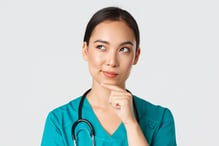 Your facility will work with your dedicated accreditation specialist to prepare for the onsite survey. You will receive an individualized description of the specific events that will lead you up to the onsite survey. You will also receive an outline of the survey to help you understand the process, who to have available, and the information that must be ready for the onsite visit.
We suggest your facility actively participates in the onsite survey and prepares with operational discipline, attention to detail and a focus on the patient. Facilities that are engaged in the survey process from start to finish tend to be better prepared. Patient safety was paramount in the mindset of the QUAD A founding members and continues to be the beacon that guides the organization today.
After the Survey
Following the conclusion of the survey, your facility will receive a formal report identifying any areas that require improvement. Identified areas must be addressed by a written Plan of Correction. There will be a set time frame to submit evidence showing that the identified deficiency are now in full compliance with the corresponding standards. We communicate the final decision of all surveys to any appropriate state or federal agencies to facilitate official recognition.
It's important that your facility maintains 100% compliance on an ongoing basis. QUAD A accreditation is a continuous process that requires facilities to remain in compliance with all standards at all times between onsite surveys.
Celebrate - Let Your Patients Know the Good News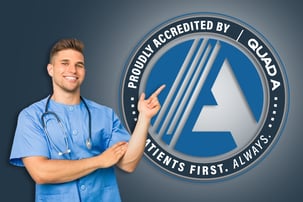 Publicize your achievement of QUAD A accreditation by notifying patients, the public, the local media, third-party payers and referral sources.
We will provide you with marketing materials to use in your facility, on your website and social media channels.
Take Advantage of Facility Consultants
Consultants help outpatient health care facilities prepare for accreditation
Consultants can be helpful assets to facilities as they prepare for accreditation, however, not all facilities need a consultant's services. Whether or not to engage a consultant depends entirely on the facility's needs.
There are consultants who have worked with QUAD A in the past helping facilities navigate the accreditation process. While QUAD A does not endorse or make any representation regarding consultants or their services, for your convenience a list of consultants may be obtained by contacting us.
To learn more about becoming a consultant, contact marketing@quada.org.
Becoming Accredited by QUAD A
To start the accreditation process, your facility will need to complete the application that corresponds with your facility's program.
To receive an application packet that relates to your program, fill out the form below, and an accreditation specialists will reach out once you have had time to review the materials.
When all materials are received you will be paired with a QUAD A accreditation specialist who will confirm your survey availability and work with you get your survey scheduled. QUAD A facility surveyors are board-certified physicians, dentists, licensed nurses, or physical therapists, trained to perform a thorough and complete facility survey. QUAD A strives to assign a surveyor that understands the unique needs of your facility type, ensuring a thorough survey which focuses on educating facilities on the safest practices.
Application Materials
The following materials are required for the Outpatient Surgical program:

---
The following materials are required for the Outpatient Procedural program:
---
The following materials are required for the Medicare ASC program:

---
The following materials are required for the Medicare RHC program:

---
The following materials are required for the Medicare OPT program:

---
The following materials are required for the Outpatient Oral & Maxillofacial Surgery program:

---
The following materials are required for the Outpatient Pediatric Dentistry program:

---
The following materials are required for the International Surgical program:

---
The following materials are required for the International Dental program:

---