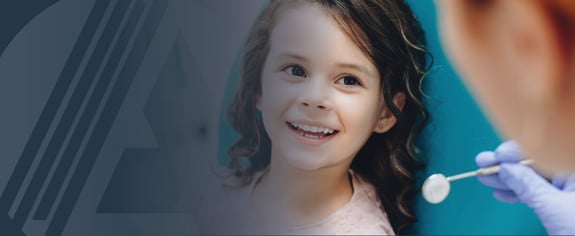 Outpatient Pediatric Dentistry

The American Academy of Pediatric Dentistry (AAPD) & QUAD A have partnered to offer an accreditation program for pediatric dental practices. QUAD A's mission of patient safety dovetails perfectly with AAPD's longstanding commitment to optimal oral health for all children.
This project leverages our shared values to create an enhanced culture of patient safety with respect to pediatric dentistry, and improve practices and preparedness that will reduce the number of adverse incidents occurring with pediatric patients. The program aims to standardize practices in accredited pediatric dentistry clinics and distinguish AAPD members from those whose practices do not follow global standards.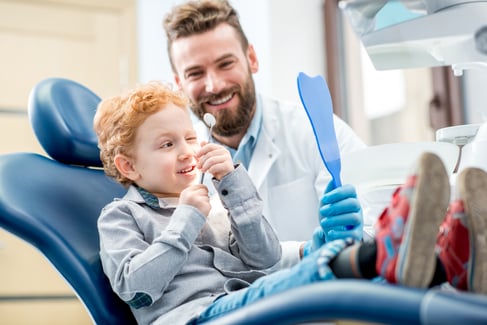 Together we look forward to being the driving force for pediatric dental patient safety worldwide and demonstrating to patient families our unwavering dedication to the safety of their children.
How to become accredited and maintain accreditation in our Outpatient Pediatric Dentistry Program
Accredited pediatric dentistry facilities must meet standards written for the delivery of safe pediatric dental care requiring unique anesthesia delivery and disinfection practices. This program is designed to ensure optimal patient safety while meeting the specific needs of the pediatric dentistry community. Review our frequently asked questions about the Pediatric Dentistry Program to learn more about the process and the benefits of becoming accredited by QUAD A.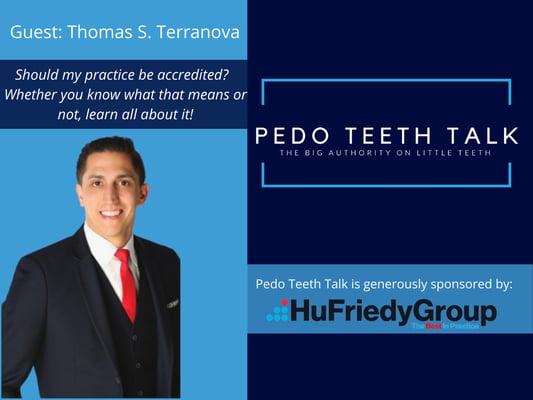 Executive Director, Thomas S. Terranova, JD MBA MA, was recently featured on AAPD's Pedo Teeth Talk podcast. Listen in to learn more about QUAD A's accreditation and how it can benefit your practice.
Dr. Eric McMahon, an owner at The Smile Lodge, reflected on his facility's decision to pursue accreditation and the survey process. The Smile Lodge, located in Clifton Park, NY, has served the community for over 20 years, opening its doors in 2000. The staff at The Smile Lodge are committed to the belief that Every Child Deserves to Smile. To ensure that every child has access to excellent dental care, they recruit team members who share their passion. According to Dr. Eric McMahon, "At The Smile Lodge, these are more than just words, they're a way of life, and it's who we are."
Accreditation is an arms-length third-party process that assesses a facility's compliance with global standards for safety and promotes the facility's ongoing compliance with those standards. QUAD A programs have been approved by the Centers for Medicare and Medicaid Services (CMS), the various states that regulate office-based practices, and internationally by the International Society for Quality in Healthcare, therefore facilities accredited by QUAD A are part of a network of facilities all over the globe that have committed to and practice in the safest manner possible. An accredited facility must demonstrate compliance with all applicable standards. It must meet our strict requirements for organizational oversight, operating policies and protocols, general safety, supplies and equipment, medications, patient records, personnel, anesthesia (if applicable), quality improvement, and emergency preparedness during a thorough survey by an QUAD A surveyor. An accredited facility must be fully equipped to provide services in the medical specialty or specialties listed on its accreditation application, for which the providers must have appropriate training, and must be equipped to respond to emergencies.
This program, developed through AAPD-QUAD A collaboration, demonstrates the commitment by pediatric dentists to provide safe environments in which to treat children and is designed for practices interested in making demonstrable safety a priority in their delivery of care.
To achieve QUAD A accreditation, a facility must comply with 100% of the standards. The applicant must submit basic facility documentation with its application and is able to work with its QUAD A accreditation specialist to assist the facility in implementing any changes needed to become compliant. Once the facility believes it is ready to undergo an onsite survey, QUAD A's scheduling team assigns a surveyor and survey date. The survey will likely produce deficiency citations indicating additional measures the facility must take to achieve accreditation. The facility will then work with its accreditation specialist, once again, to provide plans of correction and evidence of completed corrections for each citation. Once all corrective actions have been approved, QUAD A confers accreditation and the facility is entitled to prominently display its QUAD A accreditation certificate and promote its accreditation online and in other promotional materials.
Pediatric Dentistry accreditation is intended for ambulatory facilities performing the following dental procedures on pediatric patients under sedation or general anesthesia.
Dentoalveolar

Extractions
Dental Restorations
Pulpal Treatment
Soft Tissue Graft
Frenuloplasty
Frenectomy

Space Maintenance

Trauma

Hard and Soft Tissue Trauma
Lacerations
Hard Tissue Dental Fractures including Alveolus

Pathology

Hard and Soft Tissue
Management of Odontogenic Infection
Soft and Hard Tissue Biopsy
The program offers an opportunity for pediatric dental offices using any anesthetic agents from local all the way up to general anesthesia to document safe and competent delivery of anesthetic agents in the office.
Once your application for accreditation is complete and your floor plan is approved, the QUAD A staff can usually secure a surveyor to evaluate your facility as quickly as within 30 days, although QUAD A cannot guarantee a survey within 30 days. Historically, most facilities fully achieve accreditation 90 to 150 days after submitting a complete application.
Surveyors are dental and medical specialists dedicated to the peer-based accreditation process that gives QUAD A national and international recognition as the gold standard in accreditation. This means that another pediatric dentist or an anesthesia provider that works in pediatric dentistry will be performing the survey. In certain circumstances, some specialized surveys may be conducted by a registered nurse that practices in a pediatric dental facility. In any event the surveyor will be a peer working in the same type of setting as you.
Accreditation has many benefits and will help your practice:
demonstrate a commitment to provide safe environments in which to treat children.
give patients a level of assurance that you have made patient safety your top priority.
standardize quality measurement.
collaborate with other healthcare leaders.
differentiate your office from those who cannot or will not meet standards or who do not have the required training to meet the standards.
contribute to scholarship and academic research to quantify safety and investigate causes for adverse events
promote your facility in the marketplace as subjecting yourself to a rigorous examination
This process sends a clear message to patients and regulators that AAPD and your facility is fully committed to the safety of your patients.
A floor plan or diagram of the facility clearly labeling rooms, including Operating Room, Prep/Scrub area, clean room/area, Dirty room/area, PACU/Recovery Room, etc. (does not need to be to scale and must clearly identify each room purpose and dimensions)

Copy of each dentist/physician/surgeon's State Medical License

Copy of each dentist/physician/surgeon's Board Certificate or letter of admissibility by the certifying board (not required for facilities outside of the USA)

Copy of each dentist/physician/surgeon's delineation of Hospital Privileges (approved list of procedures from the hospital)
QUAD A is unique among accreditation organizations because we:
hold outpatient facilities to the highest standards.
require the use of qualified anesthesia professionals for deeper levels of anesthesia.
work closely with facilities to provide assistance throughout the accreditation process.
require a safe and clean care environment that meets stringent standards.
mandate patient safety data reporting to track data for thousands of individual cases.
champion patient safety worldwide and have for 40 years.
require 100% compliance with all standards, no partial approval
collect evidence of completed corrections prior to conferring accreditation, others confer accreditation upon the submission of a plan to correct